What a perfect day to come home! Happy 4th of July everyone!! We just came in this morning at ~7am. Our trip was amazing but the flight was tough! I'm exhausted! Spending the night in an airplane is not easy, needless to say we barely slept. As soon as we got in, I was eager to see my little ones (my sister's kids-they are also mine). It's such a relief to see them! Then we were actually able to take a little nap on Noah's bed. Not sure for how long- everything's a blur at this point. Then we rushed to our friend Leo's Bday (he's pretty much family). Yup we hit up a bday party. so yeah we. are. tired.
We finally just got home not too long ago. Coming home was strange. I was glad, it was familiar...but I couldn't help but realize that this will be one of the last time we will be "coming home" to our little apartment. My heart hurts. I think of our family, our friends we will be leaving behind and I want to cry. But I know God is in control. I know it's gonna be hard but I hold firm to the hope of a prompt return in 2013.
On a lighter note, our little trip was AWESOME! we went to the North east of Brazil which is kinda grouped together and referred to as the "Nordeste" by Brazilians. I was born in Recife, Pernambuco which is where we spent most of our time. It's an amazing place with warm weather, majestic beaches, lush landscapes, amazing food and a culture rich in music! Here's a little map in case your curious, the state below the red one is Pernambuco.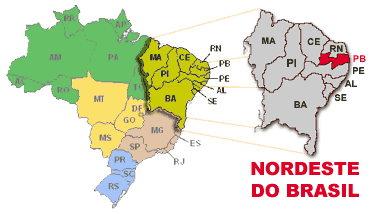 Will post some pics tomorrow! XOXO